Auctions – A Lucrative History
With television shows like A&E's "Storage Wars" putting auctions and auctioneering front and center it's easy to see why this method of buying and selling goods is so popular. There's a certain excitement and suspense that goes along with watching people bid on items hoping to turn a profit or to get an excellent deal on something they need for their home or business.
The practice of auctioning got its start long before private storage containers were even a thought. Before the beginning of the first century Romans began holding auctions to sell off the assets of indebted citizens. In fact, around the same time the entire Roman Empire was auctioned off to the highest bidder after the death of its first emperor.
Since then, auctions have sustained a small presence in the retail world for selling everything from art and collectables to houses and automobiles. Most common in the present day are asset liquidation sales for estate sales or after a business bankruptcy. A skilled liquidation company will estimate the value of a given lot of excess inventory and then sell off the goods in an organized auction setting.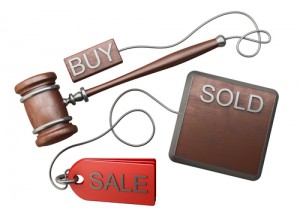 It is the skill of the auctioneer that drives the competitive nature of auctions. An experienced auctioneer is able to excite the crowd and pin bidders against each other to drive up prices. Even still most bidders walk away with items for a fraction of their original cost making this method an excellent option for business owners looking for inexpensive equipment and inventory to help advance their business. In turn the former owner of the goods walks away with the highest possible return for their liquidated items.
The mutually beneficial nature of auctions for both buyers and sellers has helped to make them a viable option for over a thousand years. In today's economy and with the large number of small businesses being driven into bankruptcy working with an experienced liquidator like Ideal Trading ensures that you are benefiting from the years of real world auctioning experience.
To learn more about Ideal Trading, NJ liquidator and our liquidation services, estate sale services and post bankruptcy services please visit our home page. For more information or to schedule and appointment please fill out the form to the left hand side of your screen.